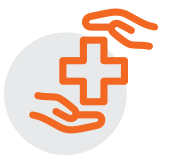 PROMOTING PREVENTIVE HEALTHCARE
We believe in promoting positive lifestyle choices to lay the foundation for safe and healthy lives. To create awareness about the ill-effects of tobacco consumption, we continue to undertake awareness sessions and tobacco cessation programs that help people choose a healthier way of life. With the use of audio-visual content, we try to demonstrate how tobacco consumption can be extremely unhealthy. We also conducted anti-tobacco programs with various stakeholders (schools, colleges, factories, communities, etc.) to create awareness and organise tobacco cessation programs.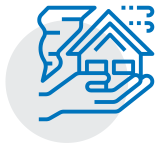 DISASTER RELIEF
Since the outbreak of the COVID-19 pandemic, we have collaborated and supported various NGOs and hospitals/healthcare centres in their fight against COVID-19. We have made best possible efforts to support communities as well as the healthcare ecosystem. We have focused on the following areas with the help of our NGO partners and hospitals.
1) Upgradation of Health Infrastructure and facilities
2) Safety of Healthcare Workers
3) Essential support for the marginalised and low income households
Bajaj Electricals Foundation, in response to the COVID -19 pandemic, has worked with various stakeholders to upgrade infrastructure and set up isolation beds/centres and provide essential equipment to Government and Private hospitals/health centres such as Lata Mangeshkar Medical Foundation in Pune, KEM hospital in Mumbai, K.J. Somaiya Hospital & Research Centre in Mumbai, Rural District Hospital, Chakan, Navghar Urban Primary Health Centre (UPHC) in Vasai, and the Integrated Child Development Services Scheme in Panvel and COVID Care Centre in Ranjangaon. Personal Protective Equipment was also distributed in Nair Dental Hospital.
Besides, migrant and daily wage labourers along with other marginalised sections of society residing near the Bajaj Electricals Ltd. Central Warehouses in Banur, Punjab and Bangalore were offered food grains, essential items and daily meals by our employees. Similar efforts were carried out in Mumbai with the help of various NGO partners such as Rotary Club of Bombay, Seva Sahayog Foundation, Anum Foundation and United Way Mumbai.